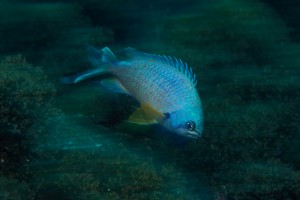 The coast of Pico is quite special in wildlife action.
This summer I focussed on Coastal areas .
Much overlooked by divers and photographers .
Most divers focus only on the big stuf like Blue sharks, Mobula's,Dolphins.
This is alright but most forget to spend time and explore the fabulous coastline of the Azores.
I decided to spend this summer looking more closely in this forgotten realm .
I focussed on photographing "ordinary " animals in an " extra ordinary " way.
At the end of Summer the result was spectacular and discovered some real gems .
TO give an example :Damsel fish!
Atlantic damsels spawning time was a truly special event that happens every year during summer time.
Normally being in large groups , ordinary colored and not really exciting to photograph.
During a few weeks before new moon Damsels get the complete Makeover!
Ordinary becomes extra ordinary .Changing colour to brilliant blue,Crazy wagging their tales to attract the females ,defending their nests.
Pico Coastal diving has some really spectacular things to offer.
You only need to open your eyes !